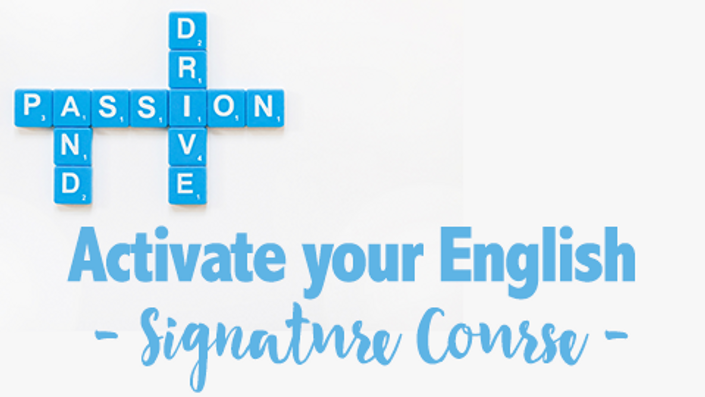 AyE Signature Course - Your Next Level in English
Join us in ongoing journey of developing your confidence, mastery and autonomy in the English language - with 200 lectures and going
Watch Promo
Enroll in course with 20% OFF
Watch the PROMO VIDEO above!

I'm glad to invite you on a journey towards helping you to finally achieve your fluency in English. As we know, learning a foreign language takes determination and drive, as well as opportunity. That is why I have been developing ways to make my students learn online.

WHY SHOULD YOU LEARN ENGLISH ONLINE WITH US?
4 simple reasons:
🎥 VIDEO LESSONS
You can watch the 🎥 video lessons anywhere, anytime and how many times you wish to, taking quizzes at the end and joining in the conversations in the comment section as well as on our PRIVATE Facebook Group! There are more than 200 lectures in the course, divided into 30 sections!
🏆 EXPERIENCED TUTOR
You can have the support of an experienced teacher who has been working in developing students' confidence since 2004. Read Thiago Moshe's full profile here.
❤ WE ARE PASSIONATE
Since its inception, Activate Your English was created out of an uncontrollable desire to share our knowledge and expertise in teaching English – without the physical barriers of a classroom and taking the knowledge anywhere!
😊 THE PEOPLE
You can have the support of an online learning community to build your confidence in using the language. Also, by sharing your frustrations, expectations and goals with your peers, you will make a strong commitment to achieve your goals!
Activate Your English is here to help you hack your brain into mastering the English language!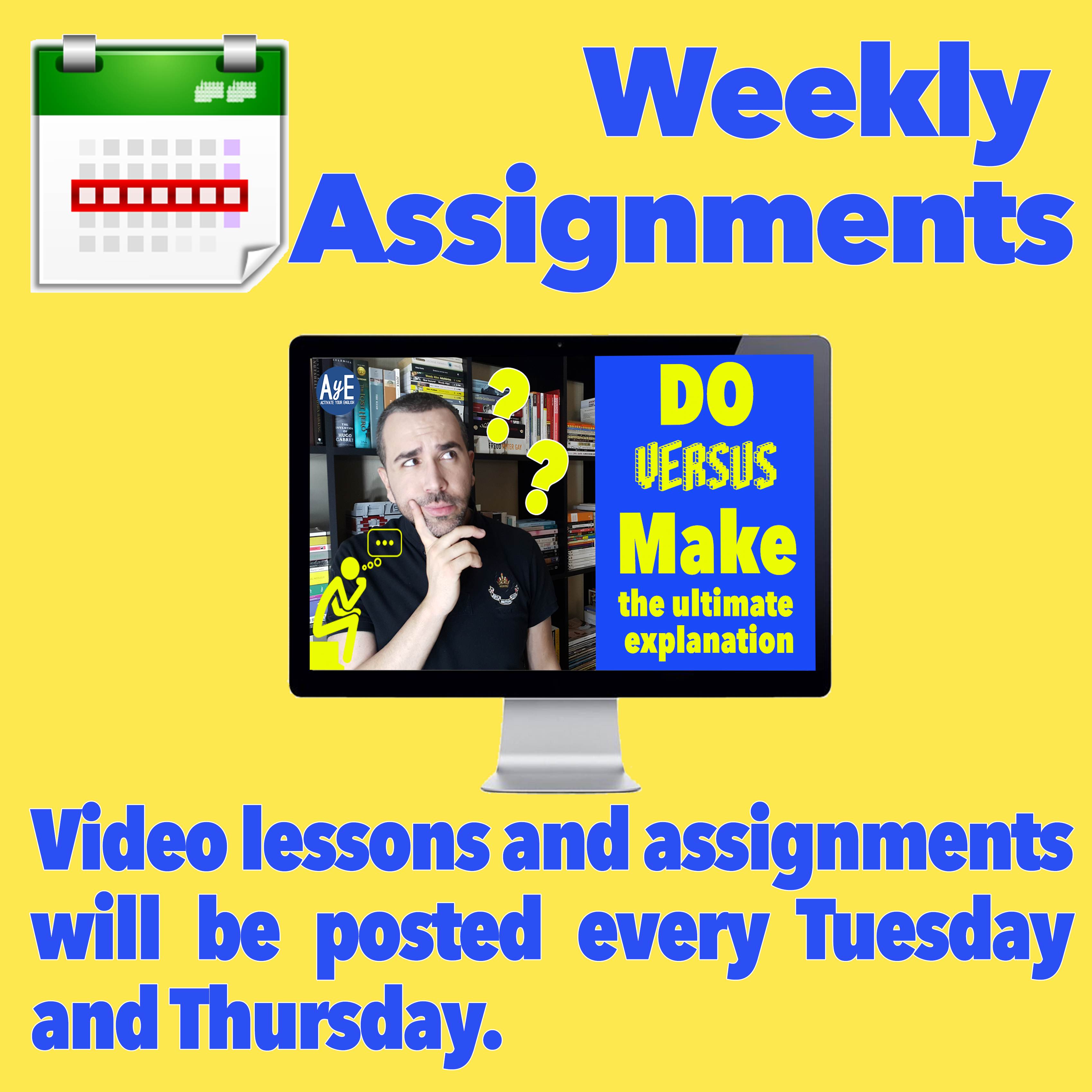 We will develop all 5 skills: speaking & listening, reading & writing, grammar.

GRAMMAR? Important!
This is a word cloud of all grammar topics to be covered in a contextualized way!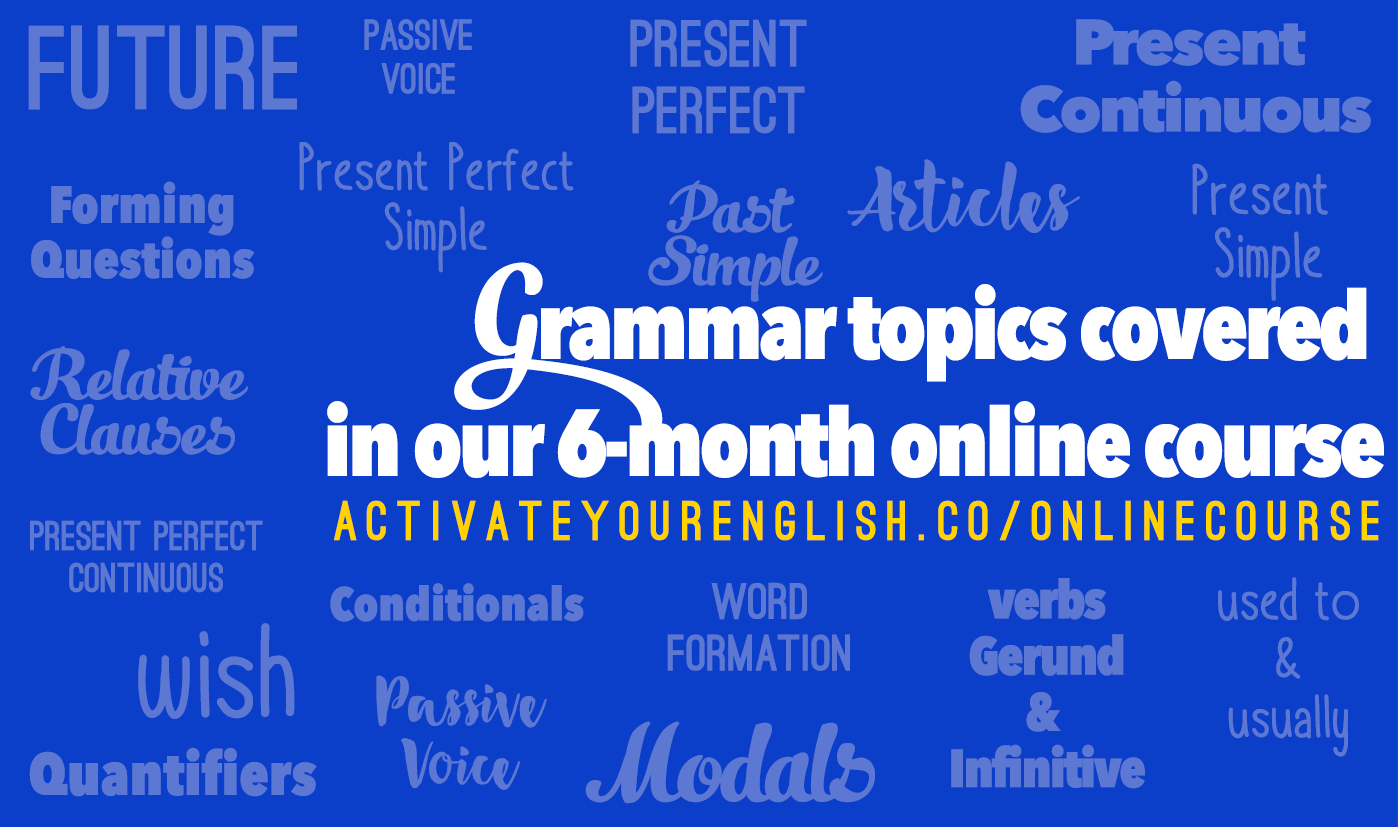 VOCABULARY: essential!
📕 Using authentic material (interviews, TV shows, advertisements, news and current affairs), we will use English as never before!
PRONUNCIATION: we must work on it!
😜 In every class, pronunciation will be addressed and explained in a fun and light-hearted way!


CONCLUSION?
You should enroll now! In order to deliver a top-notch teaching series, we have limited seats.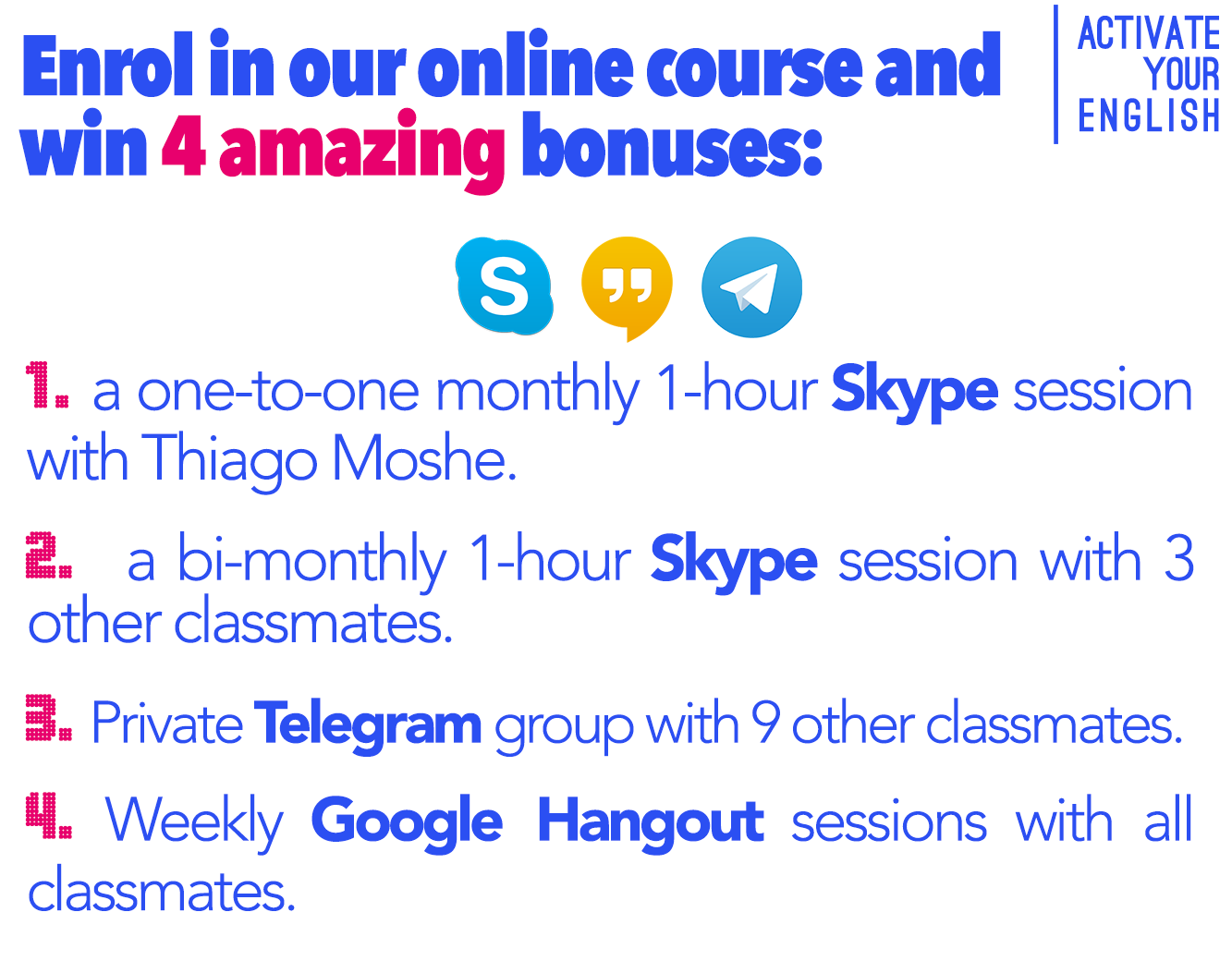 Also, if you are preparing for TOEFL or IELTS,
you will gain access to amazing tips to achieve your score!
---

📲 Follow us on

We have collected many successful stories over the years. Read some of them below (or click here you want to read all of them):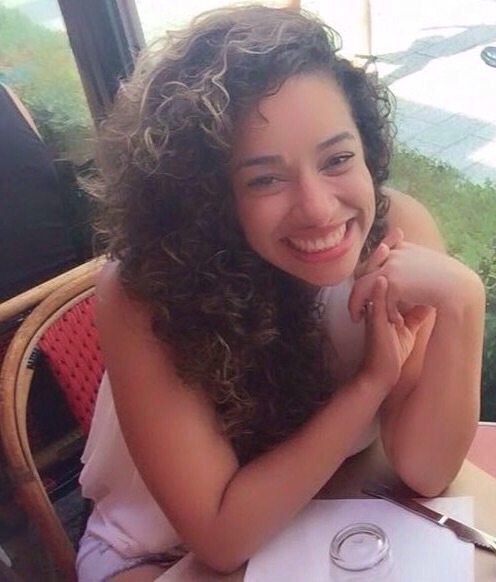 Since I have been in touch with EYE!nglish (the face-to-face course we provide), I am another person, my skill to learn, speak, think and live the English is awaken! I improved my speaking in a large way and this used to be my great difficulty… I already took many courses of English in great institutions (thanks for all the learning) but I felt like something was missing – I didn't have the confidence to speak. But, this is the past! Nowadays I talk in English!!! This is a lot to me. I have been having these amazing classes since one year ago and finally I can say that I am very happy with the results. Thanks teacher Thiago and Aline for all the support, you are the best <3
Luana Britto
Pedagogist - University of Brasília/Brazil. Msc in Social and Organisational Psychology at the University of Brasília/Brazil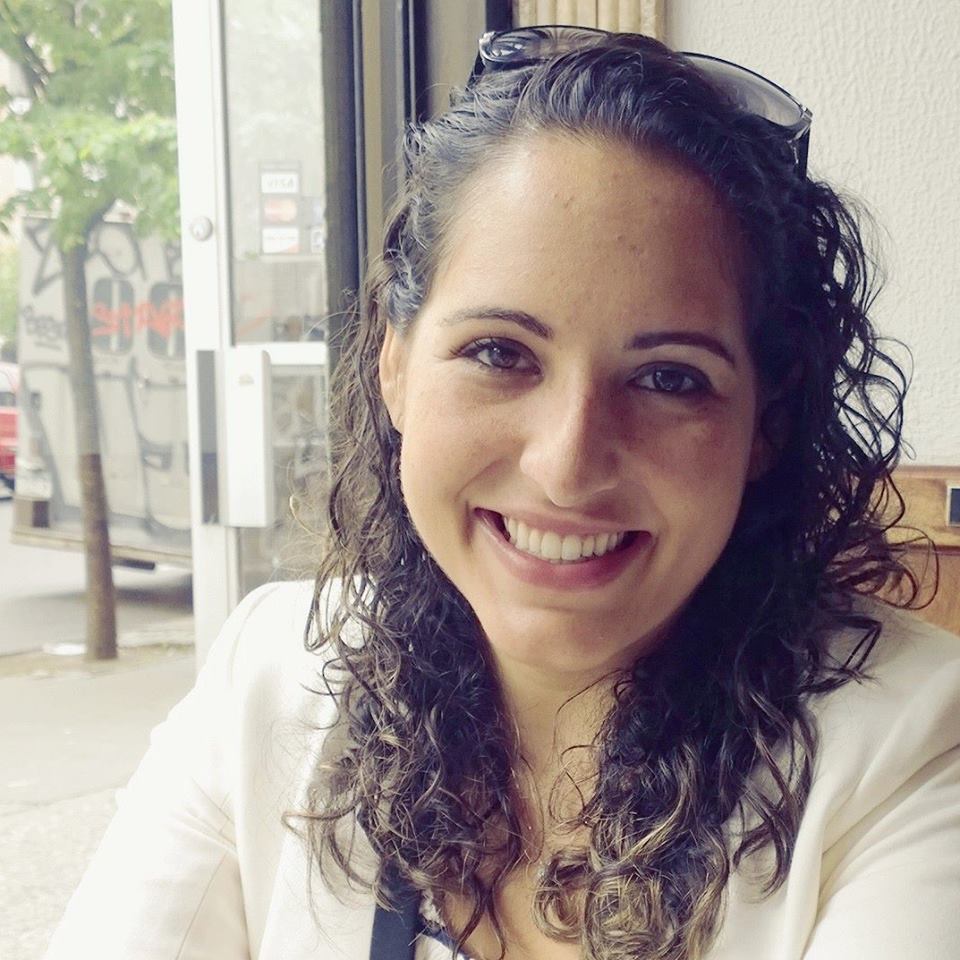 I have known Thiago for a long time, but last year was the first time I have asked him to help me improving my English. I was preparing my application for a PhD position in Denmark and needed theTOEFL certification, so I took his preparation course. It was very convenient, since I did all the exercises at home and received his feedback online. The face to face class was also amazing! We were able to practice the exercises and to have an idea of the time constraints during the test. Besides that, he and Aline were so careful in the preparation of the material and the exercises that it made me feel truly appreciated. In the end, I scored 107! Much more than what I needed! Besides being an fantastic human being, he is an incredible teacher!
Erika Portela
PhD Student / Denmark
Your Instructor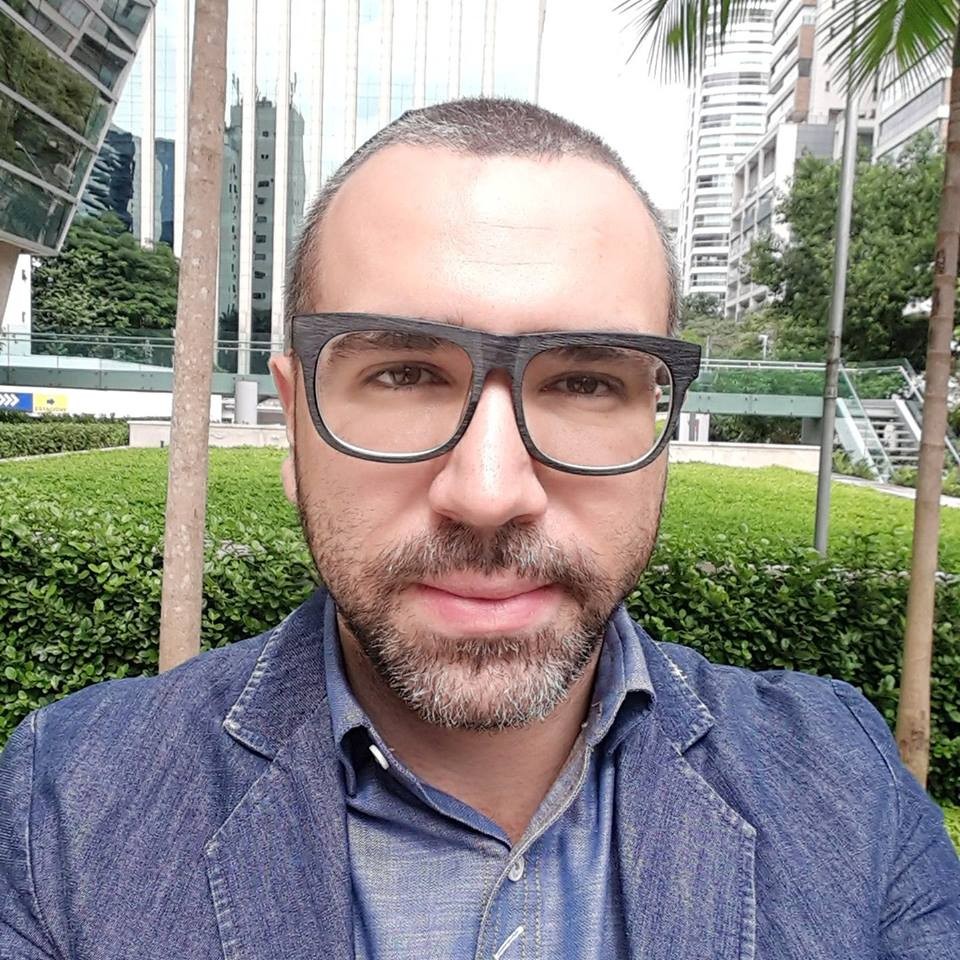 I have been an English teacher since 2004 years and have more than 15,000 hours of teaching experience. With lots of love and care for students' development, I set up my own private tutoring school at the age of 23 and since then have expanded in ways to teach English globally. I am eager to be able to share with my peeps the joy and fun of improving your language learning.
Go to activateyourenglish.co/about-thiago-moshe to know more about me and my career.
Frequently Asked Questions
Why should I sign up for this course?
I have been teaching English since 2004 and I am extremely passionate about it. I love to give students the power to own the language and use it in a confident and autonomous way, therefore achieving the level of mastery in speaking English. And this is your opportunity to give yourself another chance to master this beautiful language!
How long do I have access to the course?
How does lifetime access sound? After enrolling, you have unlimited access to this course for as long as you like - across any and all devices you own.
​When does the course start and finish?
The course takes you on a 6-month journey into the core aspects of the English language! Videos with authentic material as well as quizzes will help you internalise the words and take you to the next level in your English Language Learning.

What can I take from this course?
This is a course with weekly quizzes and weekly video lessons to take your English to the next level. The levels are: Confidence, Autonomy and Mastery.
MASTERY
by achieving the benchmarks established in the our Activate Your English course, you – the learner – become an expert, a master in the English language.
CONFIDENCE
as a consequence of mastery, you – now, the master – boost your confidence in speaking and communicating in the language, leading to a higher-than-average level of English.
AUTONOMY
this is the ultimate goal: by making use of all the tools we have in our consultancy job, you – the confident master – is able to improve your English skills on your own, with little or no help from our team.
CYCLE KEEPS GOING
being autonomous leads to a much higher degree of mastery in the English language, what boosts your confidence in using the language in the most effective way. And the cycle keeps going on.
What is your refund policy?
We offer a 14-Day refund policy. You may request a refund for up to 14 days after you begin the course. To be eligible for a refund, you must submit your request to
[email protected]
When you purchase the course, you acknowledge that you have seen and agree to this policy.
Can I pay with a BRAZILIAN credit card?
To pay using a Brazilian Credit card, please go to http://activateyourenglish.co/paypal (clickable link BELOW)
This is a Signature Course brought to you by our team at EYE!nglish - Enhance Your English - www.eyenglish.com.br
We have been teaching English privately in Brasília and online since 2004. Also, we prepare students for international certifications such as TOEFL and IELTS. To read about our success stories, go to www.eyenglish.com.br/testimonials
* EYE!nglish é um curso de Aulas Personalizadas de Inglês em São Paulo e Online.